Revision Process
|
Revised Personas
|
Revised Task Analysis
Scenarios
|
Comparative Analysis
|
Work Breakdown
|
Initial Designs
Persona and Task Revision Process
The team made some important changes this week to in order to refine our personas and user tasks. To determine which personas were crucial to the design of the LightsOn interface, the team conducted a thorough analysis of the tasks and the task-table. In this process, we considered the scope of the project and the technical limitations; we came to a consensus on the relevance of each task, and then followed each decision with a discussion of possible implementation ideas. By identifying which tasks were impossible to build into the interface, such as the repairing of specific lights, we were able to eliminate a total of 9 tasks.
The reformed set of tasks emphasized the responsibilities of Dan Mason and Thomas Cooper. We discovered that all the tasks owned by Pedro Gomez and Steve Berger were also shared by Dan and Thomas. Therefore, while Steve and Pedro are still possible users of the LightsOn system, we have chosen not to include them in our design considerations. Instead of totally discarding Pedro, we decided to retain some of his uniqueness by changing Thomas Cooper in to Tomas Cupertino. Tomas is a hybrid of Pedro and Thomas. Tomas captures the goals and responsibilities of Thomas and the education level and life experiences of Pedro.
We also created a new persona, Mary Dobson. Mary is an example of a persona we are not designing for, but we feel she still represents an important person in the world of office lighting. While we will consider how changes might affect Mary, she serves mainly as a boundary case to remind ourselves for whom this product is not designed.
With our two primary personas selected, we decided to construct two scenarios around each. Each scenario captures what we see as one of the four primary goals of the users. The scenarios also capture the difference between frequent tasks and less frequent, mission critical ones.
Revised Personas
Revised Task Analysis
Each table below identifies the level of importance of tasks for each persona. Tasks are grouped by high-level goal.
| | | |
| --- | --- | --- |
| | Dan Mason | Tomas Cupertino |
| GOAL: Keep Lights Working for Occupants | N/A | High |
| Find out what lights need repair | N/A | High |
| Track status of lighting repairs | N/A | High |
| | | |
| --- | --- | --- |
| | Dan Mason | Tomas Cupertino |
| GOAL: Save Energy & Money | High | Medium |
| Establish baseline of lighting energy usage | High | Low |
| See how lighting energy usage has changed over time | High | Low |
| See how lighting energy usage varies by location | High | Low |
| See how lighting energy usage varies by purpose | High | Low |
| Identify candidate locations for lighting energy savings | High | Low |
| Get tangible representation of lighting usage to help incentivize reduction | High | Low |
| Identify which lights can and cannot be turned off in response to an energy crisis | N/A | High |
| Turn off appropriate lights in response to an energy crisis | High | Medium |
| | | |
| --- | --- | --- |
| | Dan Mason | Tomas Cupertino |
| GOAL: Keep Grounds Safe & Secure and Comply with Special Lighting Policies | N/A | High |
| Schedule lights to be on/off at certain times | N/A | High |
| Remotely control lights to turn on and off | N/A | Medium |
| Group lights for scheduling purposes | N/A | High |
Scenarios
Comparative Analysis
Enterprise Energy Monitoring
ION EEM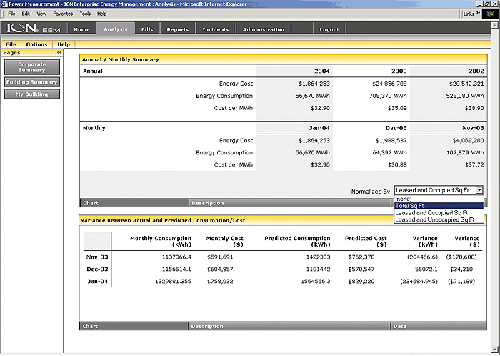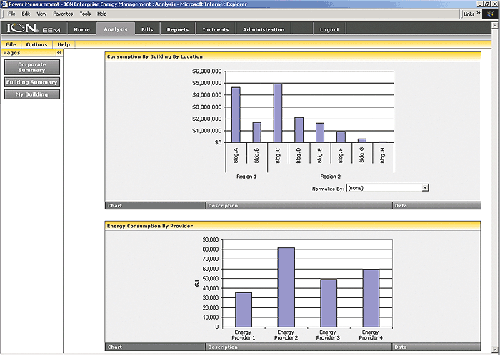 Strengths:
Allows for cost analysis views
Facility-level granularity
Remote access to interface
Able to acquire data from multiple sources and multiple mediums
Alerts can be pushed via desktop, pager, or email
Weaknesses:
No ability to control devices
ION Enterprise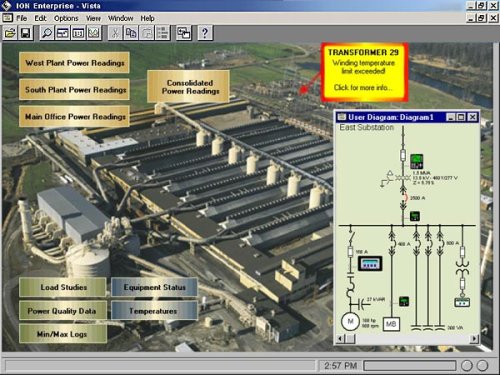 Map Interface
Strengths:
Allows for cost analysis views
Facility-level granularity
Remote access to interface
Able to acquire data from multiple sources and multiple mediums
Alerts can be pushed via desktop, pager, or email
Rich interface provides an intuitive map visualization of alerts and notifications
Weaknesses:
Windows desktop-only interface, not web-based
Eco Warrior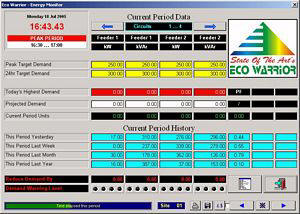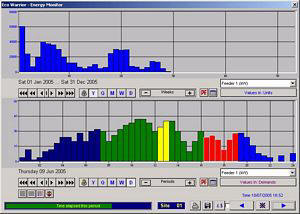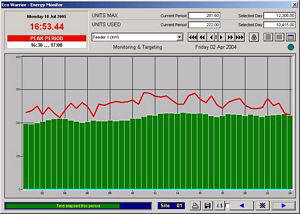 Strengths:
Real-time reporting of energy consumption
Calculation of energy costs every half hour
Colored bar graphs visualize consumption trends
'Automatic Targeting' feature sends email alerts when usage profile exceeds a set threshold
Weaknesses:
No web-based interface
No control functionality
Requires proprietary Eco Warrior monitoring devices
Obvius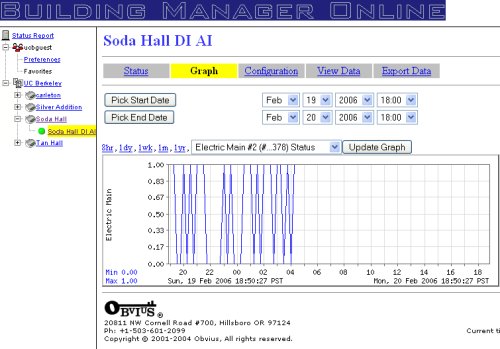 Strengths:
Web interface to graphs and other collected data
Weaknesses:
No alerts or notifications
Data collected only at building aggregate level (i.e. at power mains)
No control functionality
Itron
Strengths:
An extensive product line with robust functionality
Extensive data analysis and forecasting tools
Can acquire "clean" data from a variety of metering devices
Advanced data management tools
Weaknesses:
No control or scheduling functionality
Vykron Energy System
Tridium's Vykron Energy System Website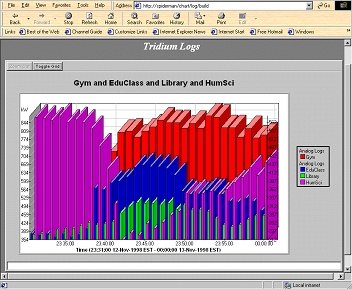 "Web Supervisor" Interface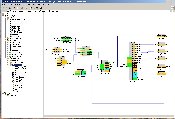 "WorkPlace Pro" JACE Programming Environment
Strengths:
Each controller device (JACE) hosts its own web-based interface
"Web Supervisor" tool allows the user to poll a network of JACE devices and download data from the network
Weaknesses:
Programming the JACE devices requires special Windows desktop software
JACE devices are proprietary
Network management of JACE devices is unclear
Home Lighting Control
ActiveHome Pro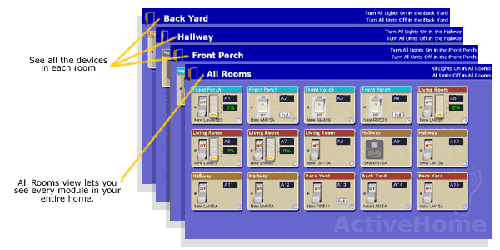 Lighting Groups Arranged by Room
Graphical Programming Interface
Strengths:
Allows lights to be grouped by room (or otherwise)
"Macro designer" provides drag-and-drop programming interface to react to system events
Graphical touch-screen interface leverages the lightswitch metaphor
Allows for creation of lighting "profiles" or sets of predefined settings
Allows for lights and macros to be triggered by motion sensors
"Lifestyle mode" allows users to set schedules and profiles by example (i.e. log and save system events for "replay" later as a profile or schedule)
Weaknesses:
No energy monitoring functionality
No remote web access to control functionality
Home Logic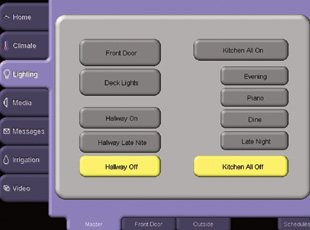 Lighting Control Tab
Strengths:
Time-based scheduling functionality
Easy to read button-based interface
Java-based interface can be deployed on desktops, in-wall touchscreens, and PocketPC's
Weaknesses:
No web interface
Advanced features may be limited by oversimplified button interface
No energy monitoring functionality
HomeSeer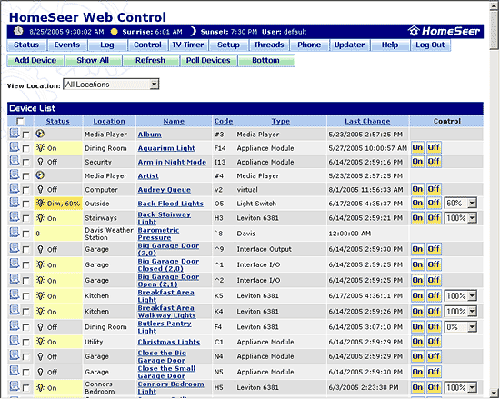 Device Status Display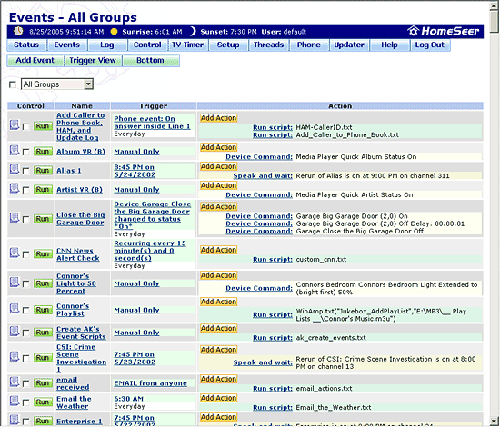 Programming Interface
Touchpad interface
Strengths:
Allows for programming "scenes" (analogous to "profiles" in ActiveHome Pro)
Event-based or time-based triggered macros
Web-based touchpad interface
Web-based administration and programming interface
Scriptable with Javascript, VBScript, and PERL
Weaknesses:
Flood of tabs and HTML tables may overload users
No energy monitoring functionality
Scriptable with JavaScript, VBScript, and PERL
Fat Spaniel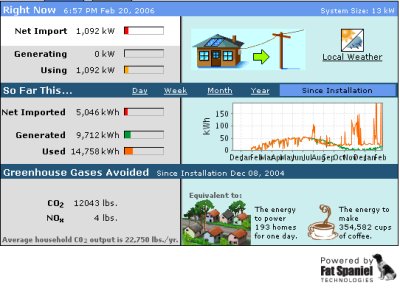 Strengths:
Web interface
Small uncluttered view of numerical and graph data
Measures power consumption as well as power production by solar panels
Small graphic at the bottom provides tangible feedback on greenhouse gases avoided (through solar power production) other metrics of equivalent savings
Weaknesses:
Other Systems
AduraTech
This system is currently in development by a former UC Berkeley Business student
This system is also developed specifically for the units being designed by Charlie Huizenga's group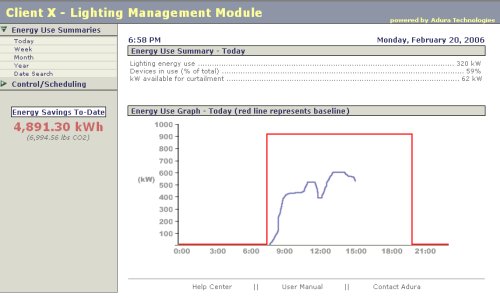 Strengths:
Web-based interface
Control and scheduling functionality
Energy monitoring functionality
Feedback on energy savings
Weaknesses:
System is under development
Work Breakdown
| | | | | |
| --- | --- | --- | --- | --- |
| | Ivan Tam | Lindsay Tabas | Katrina Rhoads | John-Mark Josling |
| Revision Process Write-up | 5% | 80% | 5% | 10% |
| Revised Personas | 10% | 10% | 10% | 70% |
| Revised Task Analysis | 22% | 22% | 34% | 22% |
| Scenarios | 0% | 33% | 34% | 33% |
| Comparative Analysis | 85% | 0% | 15% | 0% |
| Initial Designs | 25% | 25% | 25% | 25% |
| Web Page | 0% | 0% | 50% | 50% |
| Final Copy Edit | 25% | 25% | 25% | 25% |
Initial Designs
Design 1
Design 2
Design 3
Design 4
Design 5
Design 6
Design 7
Design 8
Design 9
Design 10