Web Foundations (URIs & HTTP)
[./]


Summer 2011 — INFO 153 (CCN 42509)

[http://creativecommons.org/licenses/by/3.0/]

[http://creativecommons.org/licenses/by/3.0/]
(2)

Abstract

The Web's architecture has very simple principles revolving around the ideas of placing a heavy emphasis on a consistent and global identification mechanism for resources, a standardized way of how resource representations can be retrieved, and a standardized way of how resource representations should be usable by using standardized media types. Based on the Internet, the Web's transport protocol transmits representations of resources identified by a Uniform Resource Identifier (URI) between Web servers and clients. The most important protocols for data transfer on the Web is the Hypertext Transfer Protocol (HTTP).
(3)

Web Server Service
Web servers do more than just deliver files
They receive a request for acting on a resource

this may be a simple file retrieval
additional information is available from the request's header fields

[HTTP Header Fields (1)]

the request URI may contain additional query information
the request may transmit complex data (such as a form submission)

Processing can mean anything, it is transparent for the client

the result of processing yields a resource representation
in many cases, a Web server is just part of an application
the application server is the application-specific logic
Uniform Resource Identifier (URI)
Outline
(Uniform Resource Identifier (URI))
Uniform Resource Identifier (URI) [7]
(5)

Resource Identification
Early hypertext systems usually only identified documents within the scope of a single system (e.g. HyperCard)
The web uses URIs (Uniform Resource Identifers) as global identifiers

http://bcnm.berkeley.edu/
mailto:joehall@ischool.berkeley.edu
tel:+1-510-684-2179
urn:isbn:0451450523
Global naming leads to global network effects... the value of an identifier increases the more it is used consistently
[http://www.w3.org/TR/webarch/]
(6)

URIs & Resources
A URI identifies a "resource."
But what is a resource?
A resource is anything identified by a URI.
Resources are a way of conceptually dividing up some information space
(7)

URIs & Resources
URIs do not merely identify; they can be used to access or interact with a resource
The details of how to do this are determined by the URI's scheme, e.g. the "http" part of http://bcnm.berkeley.edu/
The usual method of interacting with a resource is by dereferencing the URI
(8)

URI Schemes
URI = scheme ":" hier-part [ "?" query ] [ "#" fragment ]
http://dret.net/lectures/web-spring09/foundations#uri-schemes
URIs in their general case are very simple

the scheme identifies how resources are identified
the identification may be hierarchical or non-hierarchical

Many URI schemes are hierarchical

it is then possible to use relative URIs such as in

a href="../"

the slash character is not just a character, in URIs it has semantics

Query components specify additional information

it is non-hierarchical information further identifying the resource
in most cases, it can be regarded as input to the resource
(9)

Resources & Representations
When a URI is dereferenced by a web browser, it receives some data
That data is called a representation of the resource identified by the URI
Resources are abstract, representations are concrete
Resources may have various representations, and they may vary with time
(10)

1 Resource, 2 Representations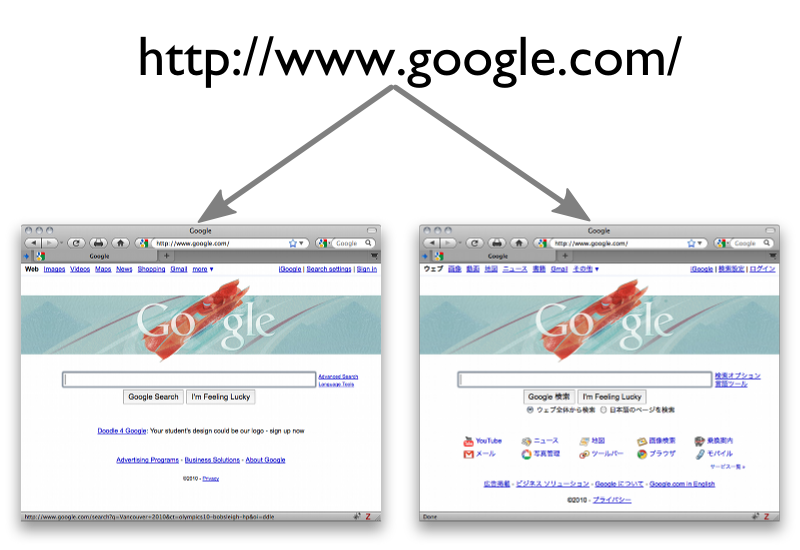 (11)

2 Resources, 1 Representation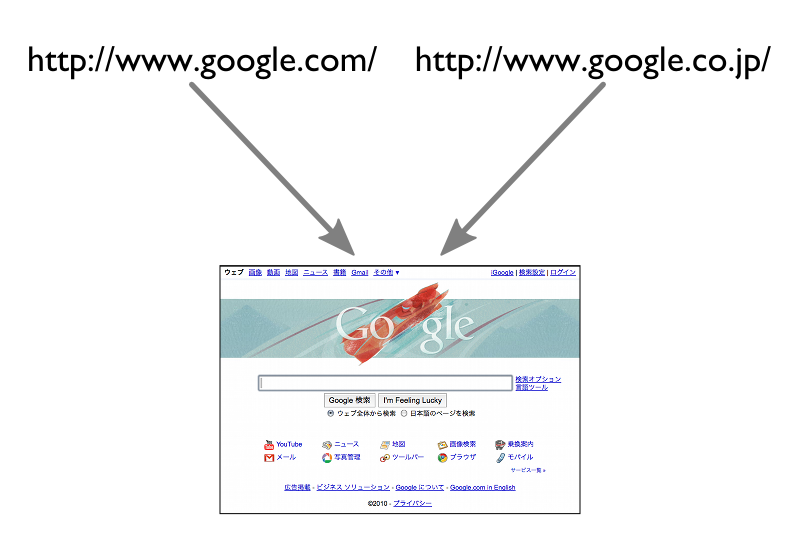 Hypertext Transfer Protocol (HTTP)
Outline
(Hypertext Transfer Protocol (HTTP))
Hypertext Transfer Protocol (HTTP) [15]

HTTP Basics [8]
(13)

DNS & HTTP

The two basic protocols which every Web browser must implement are DNS [Internet Architecture; Domain Name System (DNS) (1)] access and HTTP [Hypertext Transfer Protocol (HTTP) (1)]. However, most operating systems provide an API for DNS access, so the browser can use this service locally and only has to implement HTTP. TCP [Internet Architecture; Transmission Control Protocol (TCP) (1)] (which is required as the foundation for HTTP) is usually provided by the operating system.

(14)

The Web's Protocol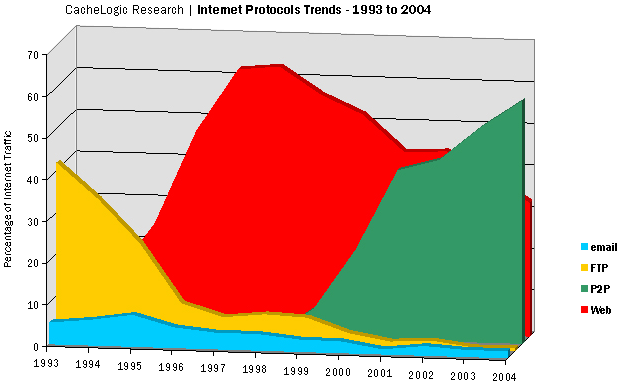 provided by [http://www.cachelogic.com/]
HTTP Basics
(16)

HTTP Messages
HTTP needs a reliable connection
HTTP is a text-based protocol

the connection is used to transmit text messages
all HTTP messages are human-readable (not all entities, though)
basic HTTP operations can be carried out by hand
start-line
          message-header *

          message-body ?
(18)

HTTP Requests
After opening a connection, the client sends a request

the method indicates the action to be performed on the resource
HTTP's most interesting methods are: GET, HEAD, POST
other interesting methods are: PUT, DELETE

The URI identifies the resource to which the request should be applied

absolute URIs are required when contacting proxies
absolute paths are required when contacting a server directly
the URI may contain query information

The Host header field must be included in every request
Method Request-URI HTTP/Major.Minor
          [Header]*

          [Entity]?
(19)

HTTP GET
Retrieval action based on the URI

maybe implemented by reading a file
maybe implemented by processing a file (PHP)
maybe implemented by invoking a process

Semantics may change based on header fields

If-*: only reply with the entity if necessary
Range: only reply with the requested part of the entity

Cacheability depends on header fields of the response
GET / HTTP/1.1
          Host: ischool.berkeley.edu
(20)

HTTP Responses
The server's response to interpreting a request

the status code is given numerically and as text
2** for variations of ok
3** for redirections
4** are different client side problems (404: not found)
5** are different server side problems

Header fields specify additional information

information about the server
information about the entity (media type, encoding, language)
HTTP/Major.Minor Status-Code Text
          [Header]*

          [Entity]?
(21)

Demo!
telnet www.ischool.berkeley.edu 80
GET
GET image
GET nonexistent
OPTIONS
(22)

HTTP Performance
HTTP/1.0 allowed one transaction per connection

TCP connection setup and teardown are expensive
TCP's slow start slows down the initial phase of data transfer
typical Web pages use between 10-20 resources (HTML + images + CSS + scripts)
typically, these resources are stored on the same server

HTTP/1.1 introduces persistent connections

the TCP connection stays open for some time (10 sec is a popular choice)
additional requests to the same server use the same TCP connection

HTTP/1.1 introduces pipelined connections

instead of waiting for a response, requests can be queued
the server responds as fast as possible
the order may not be changed (there is no sequence number)
(23)

HTTP Connection Handling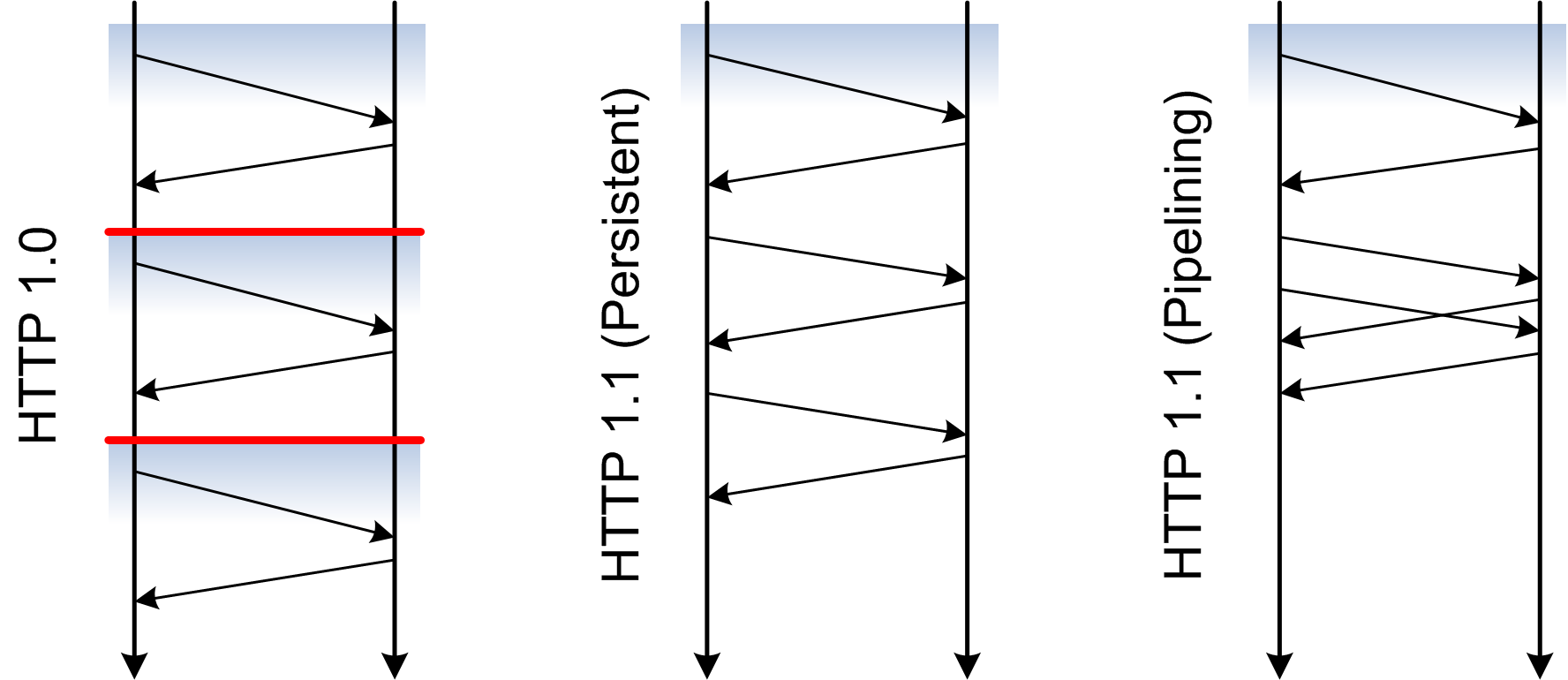 HTTP Authentication
(27)

Basic HTTP Authentication
Authentication is based on authentication realms

a set of resources for which the authentication is required
an opaque name which is used to signal which login is required
username/password often is specific for a given realm

Users supply username and password through the client

sent as

[http://en.wikipedia.org/wiki/Base64]

encoded username:password string
username and password are

[http://www.google.com/search?hl=en&q=base64+decoder]

basic authentication should always use HTTPS

Authorization is handled on the server side

[http://en.wikipedia.org/wiki/Basic_access_authentication]

[http://en.wikipedia.org/wiki/Basic_access_authentication]
(28)

Repeated Access
Clients typically access more than one protected resource

a perfectly stateless client would always request authentication from the user
using the realm clients can identify repeated accesses

Web interactions by default are perfectly stateless
Clients remember the authentication and replay it automatically

browsers provide little control over this feature
logging out of HTTP authenticated sessions is hard
(30)

Conclusions
HTTP is much more than file transfer

it is a protocol for the concept of resource manipulation
it is a distinct step away from the API approach to building distributed systems

HTTP servers can be configured to deliver good or bad service

this is a question of how well they are configured on the HTTP level
it is also a question of how good the Web design is
both issues together are required to set up a good Web server
(31)

Administrative Details
[https://docs.google.com/document/d/1oPegvEkINIgGUOl5jlTayohW6MCtxKA6O3bMAqJCzDo/edit?hl=en_US]

is available, due on Friday July 22 by 11:55pm
Please put your topic for your

[https://docs.google.com/document/d/1Q-JwiZiFzTQF-g_gDKHGiG1xQ7HOsJI4rCEsx-yLGuw/edit?authkey=CMv5iMEM]

in the

[https://spreadsheets1.google.com/spreadsheet/ccc?hl=en_US&key=tGK7CK-TRlHj2P2HwOQUcTg&hl=en_US#gid=0]

Agnes is planning a trip to Google HQ in Mountain View. (Thanks, Agnes!) Tentative date is Thursday, August 4. Contact Agnes for more information or to sign up.