State Management (Cookies)
[./]


Summer 2011 — INFO 153 (CCN 42509)

[http://creativecommons.org/licenses/by/3.0/]

[http://creativecommons.org/licenses/by/3.0/]
(2)

Abstract

HTTP is a stateless protocol, where each request/response interaction is a separate interaction and there is no protocol support for longer sessions (such as a user logging in and working on a Web site as an identified user). State management refers to mechanisms which provide support for this kind of scenario, the most popular choice for state management are cookies. Another possibility is URI-based state management. The newest option for storing state is HTML5 Web Storage. This lecture is also a glimpse into the world of Representational State Transfer (REST), the Web's fundamental model of handling interaction with resources.
Session
Outline
(Session)
Session [8]
Cookie [5]
(4)

HTTP and Sessions
A session is an ongoing exchange of information, where later parts of the exchange depend on earlier parts

for example: buying an airline ticket from a travel web site

The current status of a session is referred to as its state

for example: user has selected a specific flight for the outgoing leg of a round-trip flight, but has not yet selected a flight for the return leg

HTTP has no session concept
Sessions have to be handled at the level of Web applications built on top of HTTP
(5)

Keeping Track of Session State
Information about the current state of a session has to be stored someplace
With server-side sessions, the state is stored by the web server

OK when there is just one web server, but most large web sites have many servers
either these servers have to share all the same state information, or a user has to keep connecting to the same server throughout the session
both of these are problematic

With client-side sessions, the state is stored by the client (web browser)

the browser has all relevant information about a session
when the server restarts, no information will be lost
(6)

Keeping Track of Session State
Three basic approaches are possible

sending back and forth state as part of every request and response
store state in the server and refer to it from the client
treat state as a resource: store state at a URI and use the URI to refer to that state
(7)

State in HTML or HTTP

(8)

State in the Server Application

(9)

State as a Resource

(11)

Reusing Resources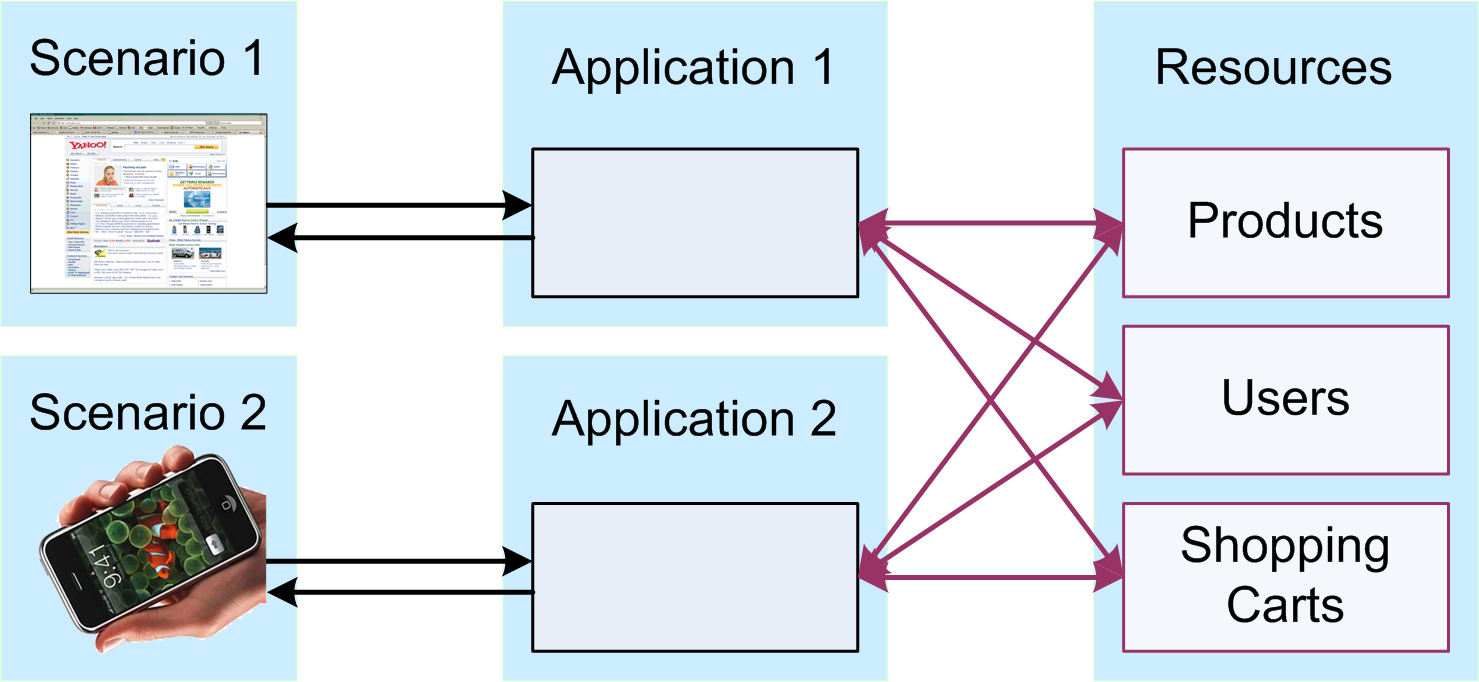 Tracking Sessions in Query Strings
Outline
(Tracking Sessions in Query Strings)
Session [8]
Cookie [5]

Tracking Sessions in Query Strings [3]
(21)

URI Rewriting
Cookie

[Cookie (1)]

s are a piece of information stored on the client

they are sent by the server as a result of a request
they are returned by the browser in a response to the same site

The same information can also be encoded in the URI

normally a response contains a cookie and an HTML page
the same effect is achieved when all links include the cookie value
this method often results in very long URIs

Some Web application frameworks switch automatically

J2EE checks for cookie support and switches to URI rewriting if required

Problems with bookmarks and caches
HTML5 Web Storage
Outline
(HTML5 Web Storage)
Session [8]
Cookie [5]

HTML5 Web Storage [2]
(24)

Problems with Cookies
Multiple browser windows

Suppose I am buying two different plane tickets from the same site, with two different browser windows open
Both windows send back the same cookies
No way for the site to distinguish two different sessions

Large amounts of "state" data

Examples: offline access to web-based email or web-based documents (e.g. Gmail or Google Docs)
A "session" may stretch over many days and multiple windows
Too much data to send back and forth with every request and response
(26)

Conclusions
Sessions should only be used for application state
Cookies are the best way to track sessions
Alternative methods are URI rewriting and hidden form fields
(27)

Administrative Details
Assignment 2 is due Friday at 11:55pm on bSpace.
Assignment 3 will be up soon.