Internet Architecture
[./]


Summer 2011 — INFO 153 (CCN 42509)

[http://creativecommons.org/licenses/by/3.0/]

[http://creativecommons.org/licenses/by/3.0/]
(2)

Abstract

The Internet is the technical infrastructure on top of which the Web is built. Some of the services provided by the Internet are essential for the Web, most importantly the naming service and the data transfer service. The Domain Name System (DNS) provides the human-readable names for computers, which can then be used in the addresses of Web servers and ultimately Web pages. The Transmission Control Protocol (TCP) provides the reliable data transfer service between Web Servers and Web Browsers, building on the very robust Internet Protocol (IP).
(3)

Administrative Details
[https://docs.google.com/document/d/1oPegvEkINIgGUOl5jlTayohW6MCtxKA6O3bMAqJCzDo/edit?hl=en_US]

is available, due on Friday July 22 by 11:55pm
Please put your topic for your

[https://docs.google.com/document/d/1Q-JwiZiFzTQF-g_gDKHGiG1xQ7HOsJI4rCEsx-yLGuw/edit?authkey=CMv5iMEM]

in the

[https://spreadsheets1.google.com/spreadsheet/ccc?hl=en_US&key=tGK7CK-TRlHj2P2HwOQUcTg&hl=en_US#gid=0]

Agnes is planning a trip to Google HQ in Mountain View. (Thanks, Agnes!) Tentative date is Thursday, August 4. Contact Agnes for more information or to sign up.
Today:

Internet Architecture
Student presentations
URIs and HTTP
(4)

Assignment 1
Everyone did very well!
CERN problems: high staff turnover (lots of scientists) and problems finding information (lots of information)
HTML: de facto or de jure?
Drawings of the WWW
Computer Networks
Outline
(Computer Networks)
Computer Networks [8]
(6)

Network History
First regarded as a convenient workaround for floppy disks

real computer scientists write compilers
the value of computer networks depends on their size

Early networking solutions were vendor-specific islands

DECnet for Digital Equipment Corporation (DEC) customers
XNS for Xerox customers
SNA for IBM customers
transmitting data between these networks was very cumbersome

Bridging networks transparently became increasingly important

more computers and networks increase the benefit of interconnections
layering being used for internetworks, not only for networks
(7)

Networks vs. Internetworks
Specific networks use specific abstractions

how to address nodes (computers, phones, PDAs, RFID tags)
how to address applications on these nodes
how to transmit data to these applications

Internetworks provide a network-independent abstraction

nodes are addressed uniformly (IP addresses)
applications are identified uniformly (ports)
data transmission uses one set of protocols (TCP/UDP)
(8)

Internet
Very early start and a lot of experience

pragmatic and evolutionary approach
if it's not broken, don't fix it

Standardization by independent technical experts

avoids the designed by committee effect of consortiums
conservative and concentrating on stability
implementations are required to prove technical feasibility
simplicity whenever possible
(9)

Internet Principles
Be liberal in what you accept, and conservative in what you send.
[http://www.postel.org/postel.html], [http://tools.ietf.org/html/rfc1122]
Whenever possible, communications protocol operations should be defined to occur at the end-points of a communications system, or as close as possible to the resource being controlled.
[http://dret.net/biblio/reference/sal84]
(10)

OSI network model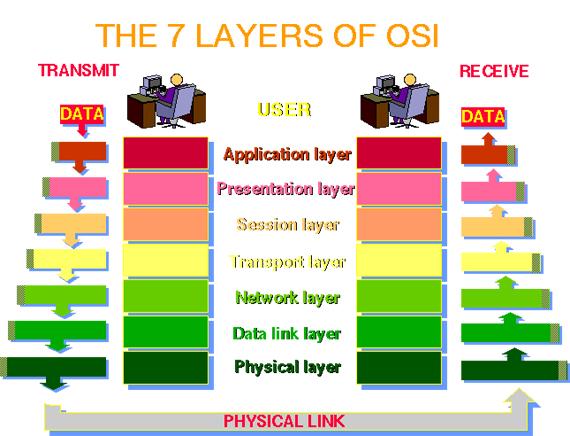 OSI: Open Systems Interconnect
An abstract, layered way to build networks
Source:
[http://www.petri.co.il/]
(11)

Group time!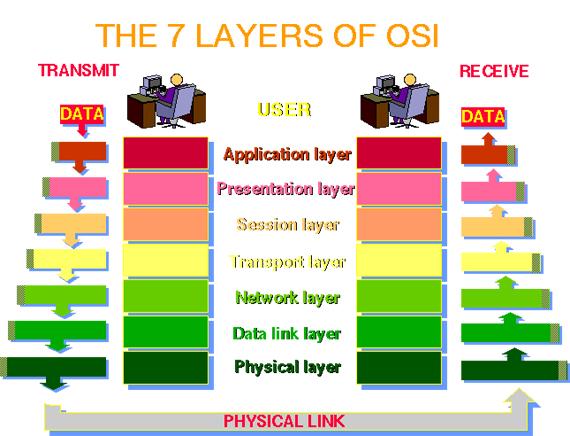 Get into groups of 4-5
Discuss the following protocols and research / discuss at which layer of the OSI they sit:
Source:
[http://www.petri.co.il/]
(12)

Internet Protocols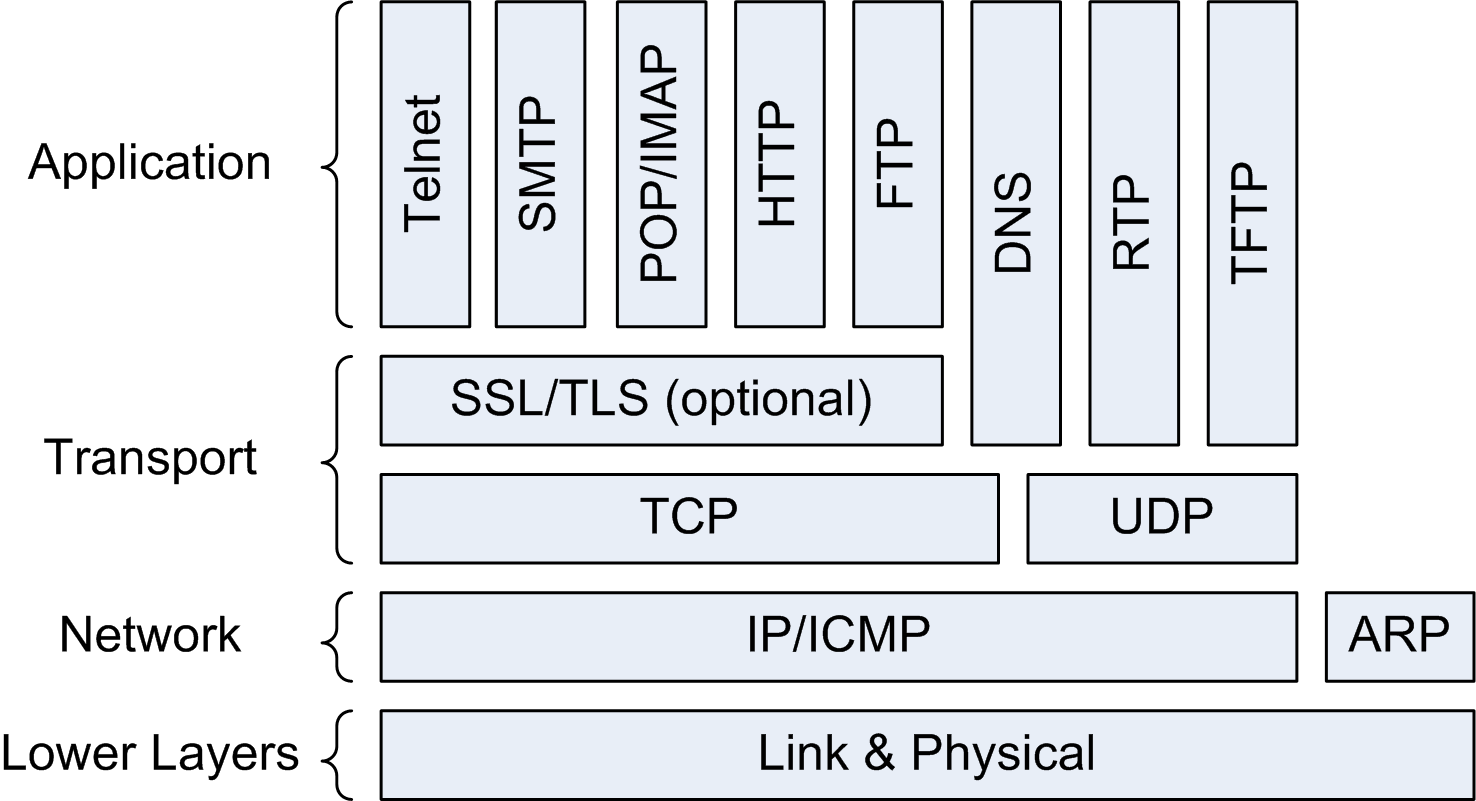 (13)

Network Convergence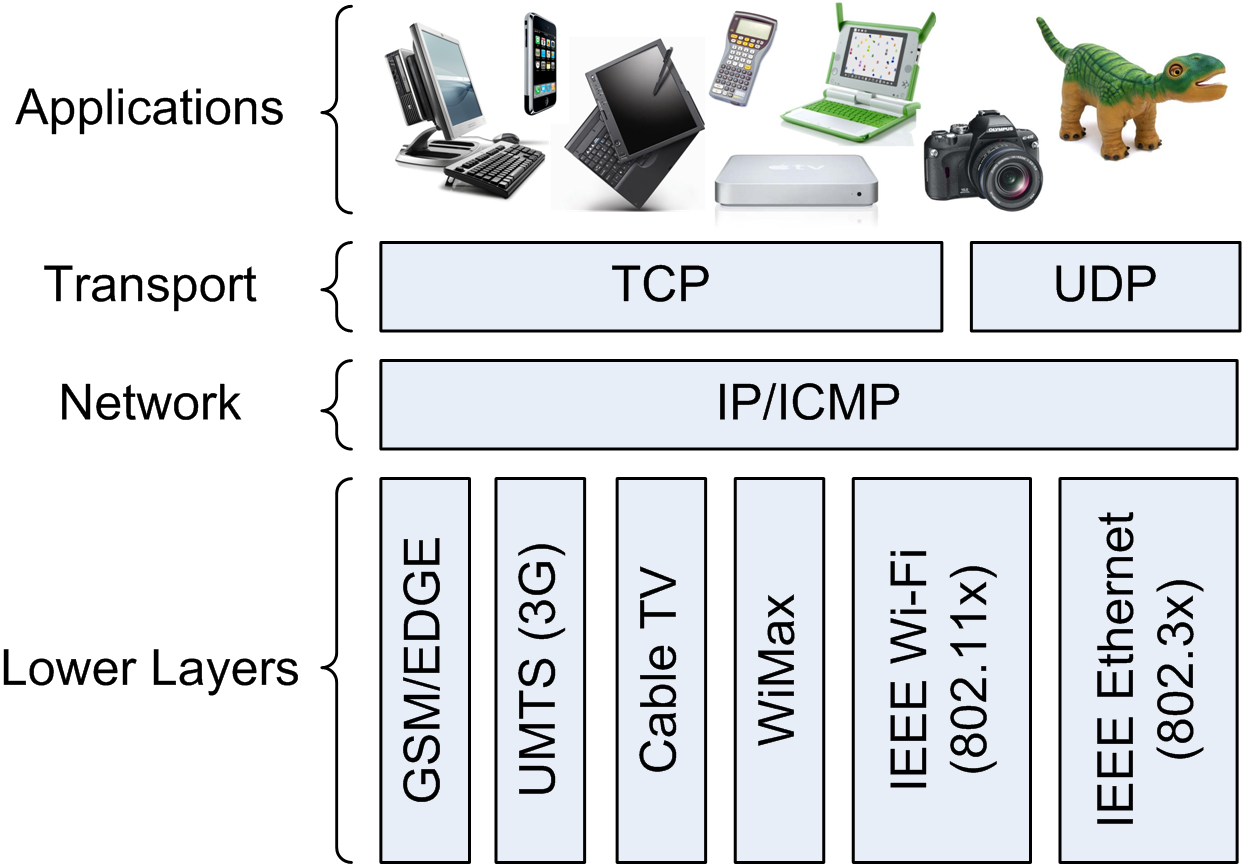 Internet Protocol (IP)
Outline
(Internet Protocol (IP))
Internet Protocol (IP) [3]
(17)

IP Packet Header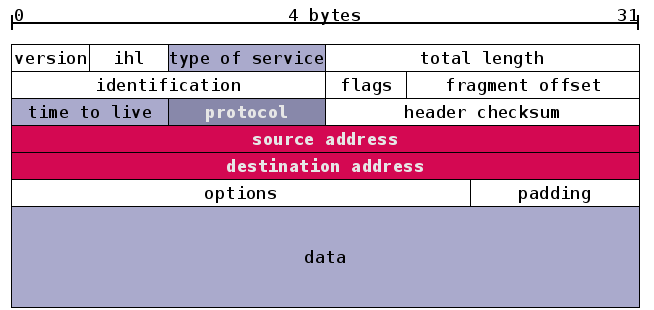 Transmission Control Protocol (TCP)
Outline
(Transmission Control Protocol (TCP))
Transmission Control Protocol (TCP) [4]
(19)

TCP Features
Connection-oriented, data structure is stream unlike IP = packet/datagram
Three Way Handshake
End to end error detection, PAR positive ack w/ retransmission
Reliable (no data lost or duplicated)
Application addressing
(20)

Reliable Connections
IP may drop or duplicate packets

TCP adds serial numbers in data packets
if problems are detected, TCP recovers automatically

TCP avoids network congestion and system overload

slow start avoid flooding receivers with data they cannot process
fast retransmit for avoiding timeouts when losing data
a sliding window for controlling the amount of outstanding packets
(21)

TCP Header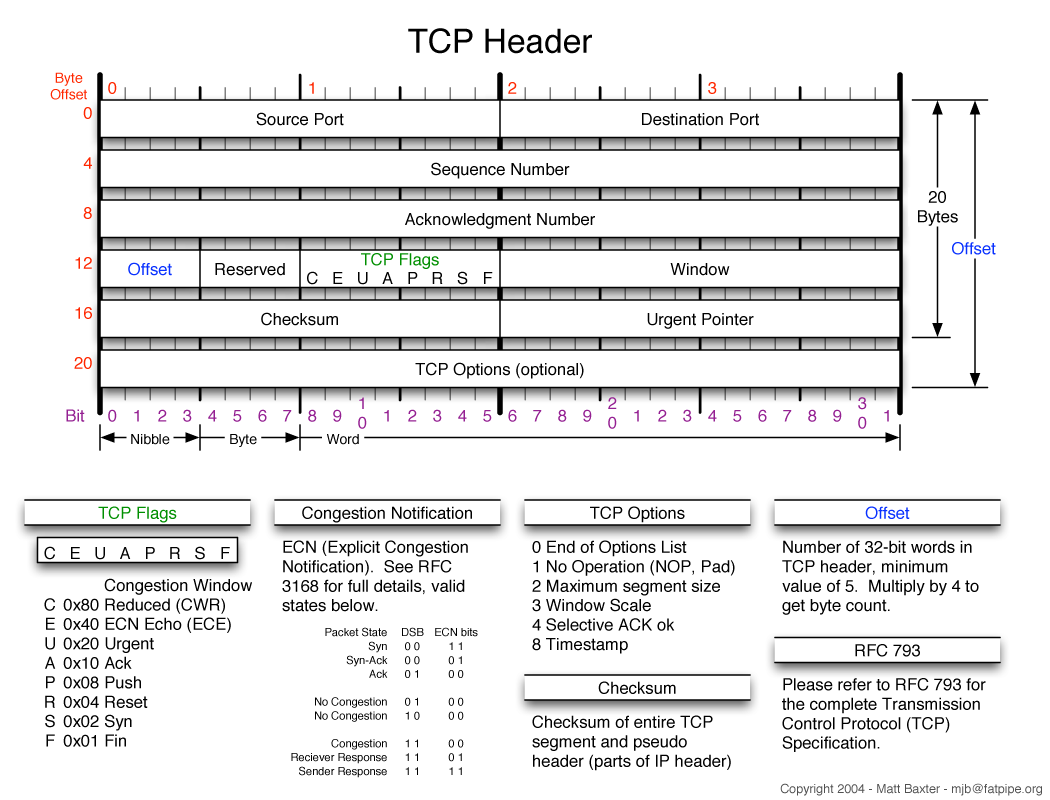 (22)

TCP Window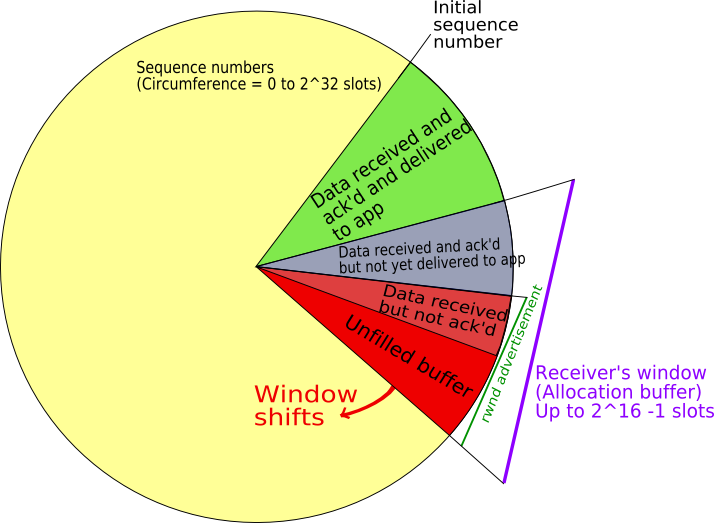 Domain Name System (DNS)
Outline
(Domain Name System (DNS))
Domain Name System (DNS) [6]
(24)

Naming vs. Addressing
IP addresses depend on network topology and organization

reorganizing a network may change all IP addresses
identifying important hosts should not be address-based

Names are supposed to be more stable than addresses

a name is an abstract identification of something
names can be used to obtain more information

Network services should use names instead of addresses

before using the service, a mapping has to be performed
the Domain Name System (DNS) is providing this service
(25)

DNS Properties
DNS has a bootstrap problem

DNS provides a service and should thus be identified by a name
for resolving names into addresses, the DNS service is required

DNS configuration is part of basic Internet configuration

Dynamic Host Configuration Protocol (DHCP) provides IP Address

[IP Address (1)]

, netmask, gateway, and DNS server address

DNS names are hierarchically structured

ischool.berkeley.edu, edu is the Top-Level Domain (TLD)
TLDs are either generic (gTLD) or country code (ccTLD)
subdomains are federated (e.g., edu, us, uk, tv)
(26)

Names Matter
Names are not unique and namespaces are finite

name disputes arise which were irrelevant before the Web
cybersquatting as a popular way to make money

Names can be worth a lot of money

business.com was sold for $7.5 million

Name inflation can be used to generate money
Names can have political significance

ccTLDs are assigned based on the UNO's idea of what a country is

Names can have symbolic significance

Catalonia managed to get a domain of its own (cat)
(27)

Domain Name Space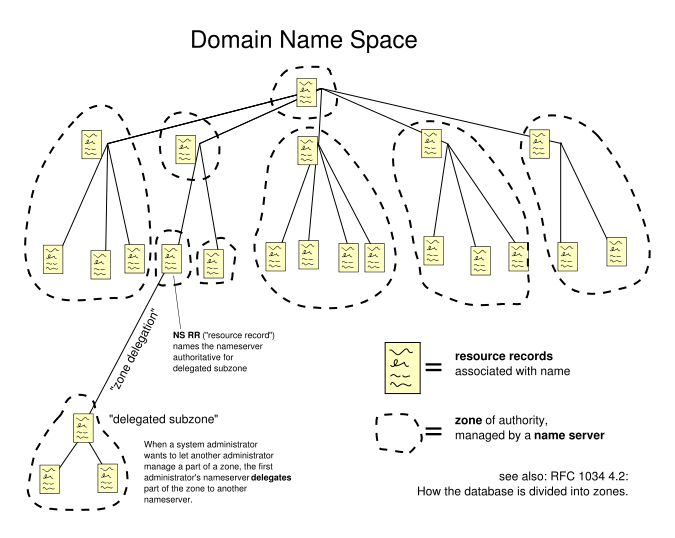 (28)

DNS Namespace Organization
Domain owners can organize the assignment of subdomains
Special rules may apply (Germany does not assign car license plate names)
Organizations may be countries or companies
(29)

Using DNS
DNS is used by virtually all Internet applications

names are more stable than addresses

E-mail has some dedicated features built into DNS

special entries (MX records) identify the e-mail server for a domain
fallback entries help dealing with failing e-mail servers

most URIs are based on DNS names

http://ischool.berkeley.edu/ identifies the access protocol and the host
the browser first performs a DNS lookup
a TCP connection is then established to the address returned by the DNS
(30)

Conclusions
The Internet is a network of networks
The Internet provides basic data transfer services
IP is used to send datagrams between end-points
TCP is used for reliable communications (building on IP)
DNS provides human-readable names for Internet hosts