Anatomy of an Advanced Web Application
[./]


Summer 2011 — INFO 153 (CCN 42509)

[http://creativecommons.org/licenses/by/3.0/]

[http://creativecommons.org/licenses/by/3.0/]
(2)

Abstract

The widespread adoption of client-side scripting and AJAX techniques has resulted in web applications becoming easier use but harder to understand. No longer is it the case that HTML is used simply to present a document to be read. Now HTML, Javascript and CSS are used together to build dynamic applications that run in the browser. These applications often depend on APIs, resources intended for use by programs rather than people. On the server side, richly complicated "backend" applications give access to databases and other resources while responding to the browser's frontend requests.
Getting Advanced
Outline
(Getting Advanced)
Getting Advanced [6]
(4)

AJAX Flow Diagram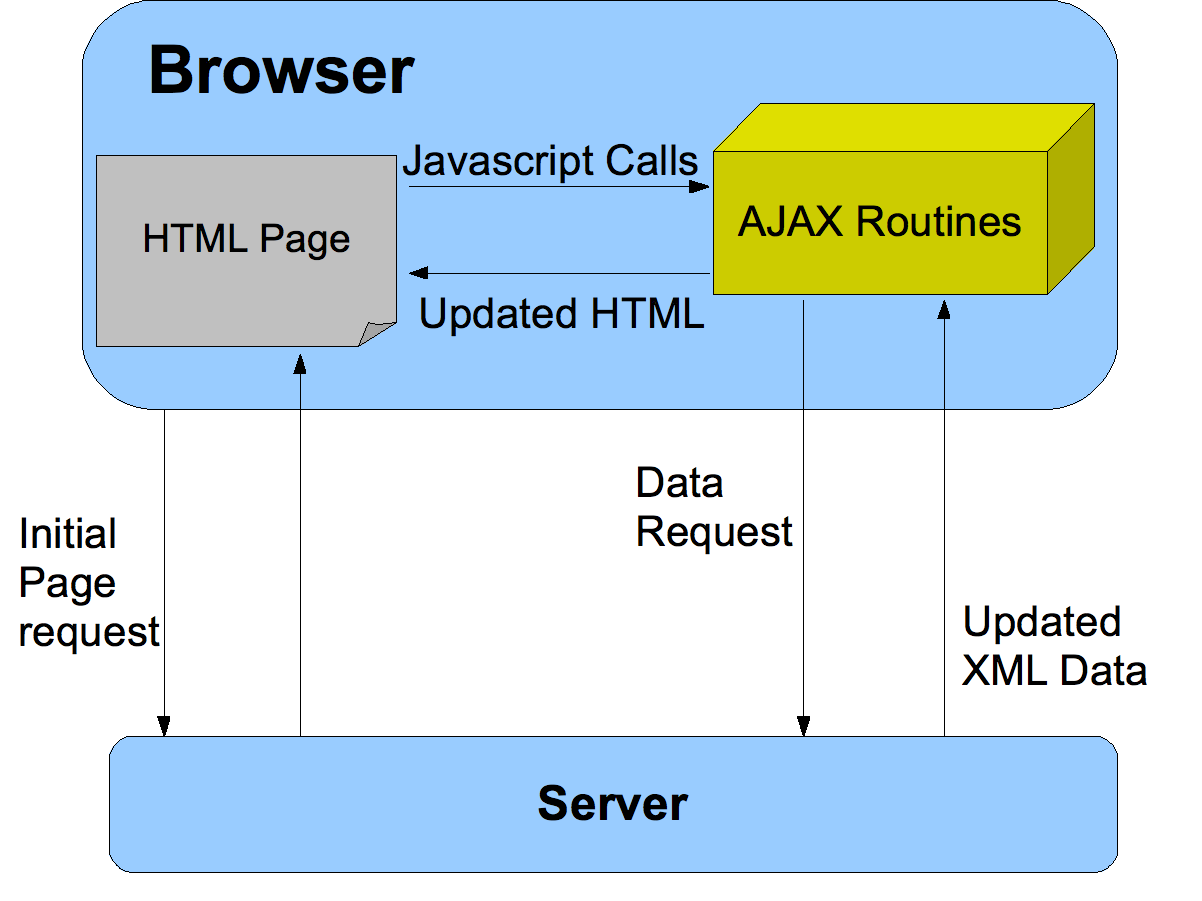 Courtesy of http://loadstorm.com/2009/load-testing-ajax-loadstorm
(5)

AJAX Auto Complete with JQuery(JavaScript)/PHP/Mysql
JQuery (JS library) connects to php script through form input string
PHP (serverside) connects to database
Mysql(serverside) process data request and returns values from db

Demo 

 [http://courses.ischool.berkeley.edu/i153/s11/ajax/index.htm]

 on Fedora Core 14 (Laughlin) running Apache 2, PHP 5.3.6, Mysql 5
(6)

Web Service APIs
These two resources compose a very simple

[http://en.wikipedia.org/wiki/Application_programming_interface]

An API is an interface intended for use by programs rather than people

people use UIs (User Interfaces)

There are

[http://www.programmableweb.com/apis/directory]

of Web APIs

[http://en.wikipedia.org/wiki/Mashup_(web_application_hybrid)]

combine data from multiple APIs to create a new application

example:

[http://joesmap.org]

Web APIs are built using URIs and HTTP just like Web UIs are
(7)

Javascript Object Notation (JSON)
JSON is a very simple text format for sending data over HTTP
There are two basic structures: objects and arrays

objects are collections of name/value pairs enclosed in { }
arrays are lists of values enclosed in [ ]

Values can be objects, arrays, text strings, numbers, true or false, or null
(8)

Javascript Object Notation (JSON)
Client side Javascript Objects

JSON parser transforms object to string
URL encoded JSON is sent to the server via HTTP request

Server Side

Decode incoming JSON string with parser into object
The object can now be handled by any prefered server side language

Client-side

Returned JSON string is transformed into new object with JSON parser on client
(9)

JSON Example

{ 
  'name': 'Web Architecture & Information Management',
  'semester': 'Summer 2011',
  'students': [
    { 
      'name': 'Angie Fredette',
      'year': 1 
    },
    { 
      'name': 'Philip Fall',
      'year': 4 
    },
    { 
      'name': 'Olivia Odum',
      'year': 2 
    } 
  ] 
}
Server-side frameworks
(11)

What happens on the server?
Technologies like AJAX and JSON operate in the browser, but communicate with the HTTP server
We've learned about some simple server-side PHP and the LAMP stack for serving dynamic web content, but that's just the beginning
(12)

Server-side frameworks
A server-side framework connects the HTTP server with the database and a programming environment
Provides many of the objects and APIs for common server-side application logic
Can also provide an application design paradigm to further structure an application
An server-side application is sometimes called a "backend", as opposed to a "frontend" (the JavaScript application that runs in the browser)
(14)

How a server-side framework works
[http://thepaisano.wordpress.com/2008/04/24/stop-flipping-the-bird/]
(15)

Into the Cloud...
Cloud providers like Google AppEngine and Amazon AWS allow you to write applications against an abstracted set of computing resources. Looks less like LAMP and more like simple programming.
Cloud platforms like Facebook and Salesforce.com allow you to write applications that integrate into their existing application environment.
The same technologies like HTTP, AJAX, and databases are used in the Cloud, it's just that the details are more hidden from the end user to enable ease of development.
(16)

Conclusions
JavaScript, AJAX, and JSON allow browser-based applications "frontends" to have rich functionality and communicate asynchronously with the web server
Various technologies exist on the server-side to allow complex "backend" applications to access databases and other resources for communication with the browser
Hosting a backend application in the cloud allows simplification of some of the complexity of running a large application
(17)

Administrative Details
[https://docs.google.com/document/d/1zv-QBp2wGdDo75ztbZ64CrEGqwh50JLmyEGqXqSFaIc/edit?hl=en_US]

is out on bSpace. Due Saturday, August 6 at 11:55pm.
Class

[https://docs.google.com/document/d/1Q-JwiZiFzTQF-g_gDKHGiG1xQ7HOsJI4rCEsx-yLGuw/edit?authkey=CMv5iMEM]

write-up is due Friday, August 5 at 2:00pm. Submit on bSpace.
There will not be an Assignment 5.
The tour to Google is on Thursday.