Introduction to Flask
What is Flask?
"Flask is a lightweight web application framework written in Python and based on the WSGI toolkit and Jinja2 template engine. It is BSD licensed."
.... What does this mean?
Flask is a microframework for Python that makes web development easy and fun!
Microframework - Core is simple and extensible
Werkzeug - Toolkit for WSGI, the standard Python interface between web applications and a variety of servers for both development and deployment
Jinja - Renders Templates
Conventions - templates and static files are stored in subdirectories within the application's Python source tree, with the names templates and static respectively
Thread Local Objects - Flask uses thread-local objects internally so that you don't have to pass objects around from function to function within a request in order to stay threadsafe
Web templates - Text files that contain variables and control flow statements (if..else, for, etc), and end with an .html or .xml extension
Installing Flask
virtualenv - A useful tool that creates isolated Python development environments where you can do all your development work.

$ sudo pip install virtualenv

$ virtualenv flaskapp //creates a folder called flaskapp

$ cd flaskapp
$ . bin/activate
$ pip install Flask

//create this folder structure inside flaskapp/
.
├── app
│   ├── static
│   │   ├── css
│   │   ├── img
│   │   └── js
│   ├── templates
│   ├── routes.py
│   └── README.md
Flask workings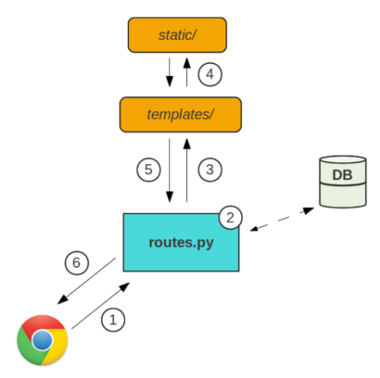 A user issues a request for a domain's root URL / to go to its home page
routes.py maps the URL / to a Python function
The Python function finds a web template living in the templates/ folder.
A web template will look in the static/ folder for any images, CSS, or JavaScript files it needs as it renders to HTML
Rendered HTML is sent back to routes.py
routes.py sends the HTML back to the browser
First swig from my Flask!
Download latest files from git And then add the following functionalities
Add an item to the menu for 'register'
Register is a page with a form that has a few form elements
Submit form to server and return the information in another page
Resources