Electronic Publishing -- SIMS 290-2
Information Design
Today's class:
Admin: Getting projects online.
Review Information Design basics from Information Architecture book
Discuss a number of different sites.
Discuss Internet directories and search engines: meta levels of information design.
Information Design
The organization and presentation of information for a user-directed purpose.
User assessment helps us know what user needs and/or expects.
Information design is a process, not a set of rules.
The Information Architect
Information Architecture for the World Wide Web
by Rosenfeld & Morville (O'Reilly)
Job of Information Architect: (p.11)
Clarify mission and vision for site
Determine site's content and functionality
Define site's organization, navigation, labeling and searching system.
Figure out how site will develop/change over time.
Disciplines
Graphic Design
Information or Library Science
Journalism
Usability Engineering
Marketing
Computer Science
---

"It just amazes me, the ads I see from headhunters," says Adobe's Wendy Govier, who runs the software designer's Web site and is herself in the market for a Webmaster. "They're looking for someone who's a good writer and editor, knows Java, Perl and C++, a graphic designer who knows production and can coordinate projects across multiple departments to do both the Internet and the intranet...a hybrid of 20 people." (Web Review)
Focus on Corporate Sites
The organizational site vs the well-organized site
Edward Tufte remarked that most sites reflect the organization's structure rather than the information needs of the user.
Most corporate sites have to serve multiple missions, multiple departments. Is there a central site serving all? Does each department have a site? Does each product have a site?
Job of Information Architect is to establish a user-centered design process.
Organization Schemes
| Scheme | Example |
| --- | --- |
| Chronological | What's New, Press Releases, Archives. |
| Geographical | Maps; Spatial Layouts, including tours. |
| Alphabetical | Reference lists; Dictionary browsing. |
| | |
| Topical | Subject-specific site |
| Task-oriented | get a stock quote; buy; sell; research |
| Audiences | create paths for different audiences; customers; distributors; |
| Metaphor | desktop; library; showroom; |
Traversal of Structure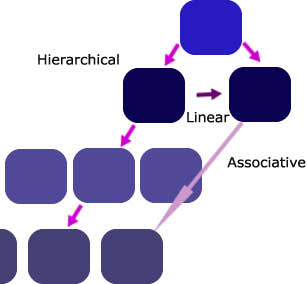 Linear structures are fairly rigid but useful.
Hierarchical organizations are usually flattened on the Web.
Complete hierarchy is difficult for user to grasp; rather like memorizing table of contents.
broad and shallow rather than deep
search can compensate
Associative structure (hypertext) provides for point-to-point leaps, where user maintains his or her own context. Trouble with associative structures is that user often doesn't know where he or she is about to go.
Predominant Organizational Schemes for Class Projects
| | Oakland | Locator | Turk.Dict. | S.Speak | Russian | Breadcrumbs | Art |
| --- | --- | --- | --- | --- | --- | --- | --- |
| Chronological | X | | | X | X | | |
| Geographical | | X | | | | | |
| Alphabetical | | | X | | | | |
| | | | | | | | |
| Topical | | | | X | X | | |
| Task-oriented | | X | X | | | X | |
| Audiences | X | | | X | | | |
| Metaphor | X | | | | | X | X |
Navigation
Navigation systems are usually overloaded
express how information is organized on the site
identify key functions (help, search)
direct different audiences to different parts
provide consistent context for user's browsing.
Links
Linking Strategy
Complementary or contrary to navigational structure.
Internal vs. External links
Embedded links in paras
Textual vs. graphical links
Minimalist strategy
Links represent decision points for users; don't overuse them.
Embedded links do not often stand out as clear choices. Isolate them.
Graphical links can be too subtle. Use cues.
Links need descriptive action-oriented labels.
Building Information Interfaces
Web application layers
| | |
| --- | --- |
| User interface | User access to features and functions |
| Presentation interface | Enhance communication. |
| Information interface | How information is organized for access |
Passage to Vietnam (CD)
By Rick Smolan, photographer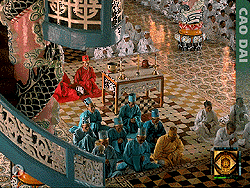 Experiential -- Entertainment/Journalism/Travel
Innovative navigational structure for browsing
Well designed screen layouts
Progressive, narrative paths
Integration of audio/video
Another good example: A Passion for Art by Corbis
Newspapers
Use of newspaper as metaphor and brand identity.
NYT: section menu; limited choices; main items plus news briefs;
SJ: less integrated feel.
Magazines:
Very busy; lots of different blocks
Color-coded sections: context
Maintains interest
Simpler; textual, content-based links.
Lots of white space.
A place for readers.
Major sections in navbar at bottom. Next page; Prev page arrows.
Government
Thomas: Legislative Information on the Internet
Task-oriented; find a bill.
Good mix of organzing information and providing a structured search.
Important information is highlight for browsing.
Women's Suffrage Collection at Library of Congress
Poor organization;
collection-centered; not user-centered
no consistent navigation
Crossroads Budget (CD)
icons unclear

information not really usable, more like decoration;

garish, unsettling graphics
Commerce: Gap
Let's Buy Pants from the Gap
Move through online catalog
add items to "bag" without having to change modes. (Not hit over head with shopping message)
Good use of menus; also "Yahoo" directory structure.
Limited personalization - register and provide personal data.
Shockwave-based "styleshows"
Let's Buy a Car from GMbuypower.com
Very large menu options on front page. Text?
All options seem about the same.
Actions are four levels down.
Attempt to explain procedures.
Web Review
We were stretching the magazine metaphor as far as we could go. In our first half-year, we had the resources to build fairly complex story layouts.
Covers
Digital Academy, October 13, 1995
Mozilla, Dec. 8, 1995
Webula, October 27, 1995
Web95, December 22, 1995
Other Feature Stories
Leonard's Clickstream
Review elements of current design.
Ferndale
An Interactive entertainment produced by Tom Arriola